Important Annoucement!
We are excited to announce that we are now officially distributing the In-Ground Dog Waste Containment System made by Sutera!  This innovative product is a game-changer in our industry, and we couldn't be happier to be a part of it.  As more and more Canadians are making dogs a part of their family, dog waste continues to be a growing concern.  Dog waste that is left behind, presents problems with bacteria, and water pollution.  Simultaneously, dog waste that is picked up presents challenges for municipalities, as they have to deal with full garbage containers in parks, and all of the extra waste that is bound for landfill.  However, with the Practica bag program, and the Sutera In-Ground Containment system, we now have a real and productive solution!
Why Is Dog Waste Such a Big Deal?
Dog waste has become a major problem, especially in urban areas with a dense dog population.  Dog waste is not only a nuisance, it also carries loads of bacteria, putting humans, other pets, and the environment at risk.  As a matter of fact, when dog waste is left behind, the bacteria and viruses in the waste can survive for up to 4 years, long after the pile of waste has washed away, or decomposed.  Dog waste is actually packed with bacteria that is harmful to humans and other pets.  One gram of dog waste can contain 23 million fecal coliform bacteria which are known to cause a host of different issues for humans, while potentially spreading disease to other dogs.  Dog waste is also a challenge environmentally, because it is a lead contributor to water pollution.  A study done by the EPA estimates that two or three days' worth of droppings from a population of a 100 dogs would contribute enough bacteria to temporarily close a bay, and all watershed areas within 30 km of it, to swimming and fishing.  What's more is that, once it is all picked up… There's a lot of it, and most of it is going to landfills.  In waste audits, bagged dog waste is accounting for as much as 4% of the total waste going to municipal landfills, and as much as 40-80% of waste in the litter bins of city parks!  Is there a better way?  Absolutely there is!  It's time to get that waste off the ground and make Poop Power!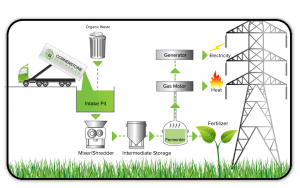 Segregate and Divert with Sutera!
The In-Ground Dog Waste Containment System is an amazing and innovative system that will solve a lot of problems.  For 17 years, we've been working with our customers across the country with our bag dispensers and pick-up bag program to get dog waste off the ground, and now we have the best solution for dealing with it after it's been picked up.  The Sutera unit is specially designed for dog waste so that used bags can be segregated from the regular waste stream, and diverted to anaerobic bio-digesters, to create energy and fertilizer!  The in-ground system can be serviced by vertical lift of a containment bag, or by vacuum.  With a large catch basin, these containment systems are great for saving on the labor costs of constantly emptying heavy garbage containers overflowing with dog waste.  The in-ground unit is also cool and dark, virtually eliminating any odor issues.  Best of all, when the unit is emptied, all of that waste can now be taken to anaerobic bio-digesters.  During a pilot project this year, it was found that after just 104 days, a total of 1730 Kg of dog waste was diverted from landfill.  In fact, the amount of dog waste that is segregated and diverted from just one of these units is enough to power a home for a year!   Saving on labor costs is also a huge benefit to using the in-ground system.  During the trial it was discovered that the Sutera dog waste containment system eliminated 76.2 times that a parks employee would have had to lift a large heavy bag of dog waste.  We are so excited about this amazing development in our industry, and are proud to be a part of the solution!  Contact us today for more information about the system, and to find out what kind of a difference the Sutera In-Ground Dog Waste Containment system can make for your municipality!  Poop Happens, so let's just deal with it and turn it into Poop Power!